#138 Carla Hairstreak

(Currently not available through the incubator)


Scientific Name: Erora carla (Event)
Set: Hairstreak
Rarity: Common
Size: Small



Incubation Time

: 3 hours

Caterpillar Time

: 45 minutes

Egg Lay Cost

: 25
Special Visitor Price: 50

Special Ability: Double effectiveness of pollen on a butterfly for 1 minute.

Cooldown:

24 hours

Description: Marching in a straight line helps this hairstreak look like a leaf-carrying ant, headed for home.


Level Data
Level
Pollen to next level
Honeydew Production
Sale Price
21
79
every 45 minutes
500
42
158
every 90 minutes
500
63
263
every 150 minutes
2,000
84
315
every 3 hours
4,500
105
420
every 4 hours
8,000
total: 315
473
every 270 minutes
12,500
Notes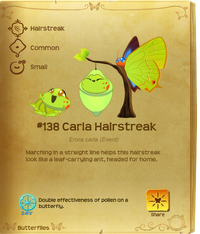 The ability description changed on 21st December 2016 from Double effectiveness of pollen on a butterfly to the actual one to be more specific.
Ad blocker interference detected!
Wikia is a free-to-use site that makes money from advertising. We have a modified experience for viewers using ad blockers

Wikia is not accessible if you've made further modifications. Remove the custom ad blocker rule(s) and the page will load as expected.