#62 Lilac-banded Euselasia

(Currently not available through the incubator)


Scientific Name: Euselasia perisama (Event)
Set: Perisama
Rarity: Legendary
Size: Medium



Incubation Time

: 8 hours

Caterpillar Time

: 2 hours

Egg Lay Cost

: 250
Special Visitor Price: 500

Special Ability: Lay an egg for free.

Cooldown:

7 days

Description: The males of this species hide under leaves, waiting to ambush other Euselasia that fly past.


Level Data
Level
Pollen to next level
Honeydew Production
Sale Price
216
270
every 2 hours
6,500
432
540
every 4 hours
6,500
648
810
every 6 hours
26,000
864
1,080
every 8 hours
58,500
1,080
1,350
every 10 hours
104,000
total: 3,240
1,620
every 12 hours
162,500
Notes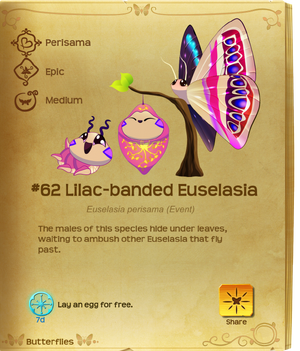 The Lilac-banded Euselasia's rarity changed Winter 2015/16 from epic to legendary. So the egg laying costs, pollen, sellig value and earning rates changed, too.
Ad blocker interference detected!
Wikia is a free-to-use site that makes money from advertising. We have a modified experience for viewers using ad blockers

Wikia is not accessible if you've made further modifications. Remove the custom ad blocker rule(s) and the page will load as expected.