This page descibes old game content, which is not in the game anymore! For actual informations on the shop, please visit the Shop page.
---
To open the shop, tap

at the bottom right corner and then the shop button
.
As alternative you could enter the Old Shop from the attraction flowers menu by tapping the
button.
To buy a selected item, tap

.
You could buy 100% Attraction Flowers, the Frog Delicacy 6-Pack and the Buff-Tailed Bumblebee for Flutterbucks, but you can also spend some Honeydew on the Daily Deals.
Daily Deals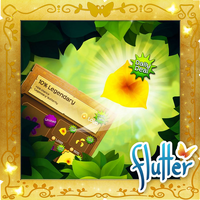 The Daily Deals are
Attraction Flowers
from 10% – 100%, which can be bought once a day for some
Honeydew
(the price varies between the
selling price
multiplied by 7.5 to 10). New Daily Deals appear every day, with the refresh taking place at midnight, your local (device) time.
If you have a butterfly with the ability to reset the store's daily deals, you can get an additional reset of the Daily Deals once every 24 hours for each of these butterflies you have.
Shop for Friend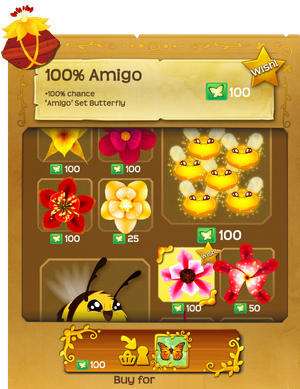 If you want to surprise your Friends with something special, you can shop for them.
To do so, open your friend list, choose the friend you want to gift and press

. (If this button is greyed out
, you need to select a friend first.) After that, the shop will open, as normal, but all items, even the Daily Deals, need to be bought with Flutterbucks. However, this means that you can gift the same shop item unlimited times – to the same or different – friend.
Keep your eyes peeled for your friends wishes, to make the surprise the best it could be!
Ad blocker interference detected!
Wikia is a free-to-use site that makes money from advertising. We have a modified experience for viewers using ad blockers

Wikia is not accessible if you've made further modifications. Remove the custom ad blocker rule(s) and the page will load as expected.