#213 Pink Forester

(Currently not available through the incubator)


Scientific Name: Euphaedra xypete (Event)
Set: Amore
Rarity: Epic
Size: Medium



Incubation Time

: 6 hours

Caterpillar Time

: 90 minutes

Egg Lay Cost

: 175
Special Visitor Price: 350

Special Ability: Lovingly make surrounding butterflies ready.

Cooldown:

4 hours

Description: Balancing on just four of their six legs, male and female Pink Foresters may be using their small fuzzy feet to help smell and taste each other.


Level Data
Level
Pollen to next level
Honeydew Production
Sale Price
140
189
every 90 minutes
4,500
280
378
every 3 hours
4,500
420
567
every 270 minutes
18,000
560
756
every 8 hours
40,500
700
1,008
every 8 hours
72,000
total: 2,100
1,134
every 9 hours
112,500
Notes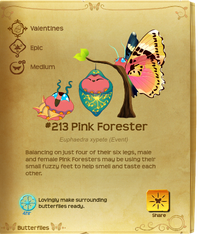 On release the set was called Valentines, this changed with the release of the last butterfly.
Ad blocker interference detected!
Wikia is a free-to-use site that makes money from advertising. We have a modified experience for viewers using ad blockers

Wikia is not accessible if you've made further modifications. Remove the custom ad blocker rule(s) and the page will load as expected.