#212 Red-washed Satyr

(Currently not available through the incubator)


Scientific Name: Pierella helvina incanescens (Event)
Set: Amore
Rarity: Rare
Size: Medium



Incubation Time

: 4 hours

Caterpillar Time

: 1 hour

Egg Lay Cost

: 100
Special Visitor Price: 200

Special Ability: Affectionately wake up all the butterflies.

Cooldown:

4 hours

Description: Pairs of Red-washed Satyrs shun the sunlight, instead performing their fluttering dances in the shadows of early morning and late evening.


Level Data
Level
Pollen to next level
Honeydew Production
Sale Price
90
137
every 1 hour
3,000
180
273
every 2 hours
3,000
270
410
every 3 hours
12,000
360
546
every 4 hours
27,000
450
683
every 5 hours
48,000
total: 1,350
819
every 6 hours
75,000
Notes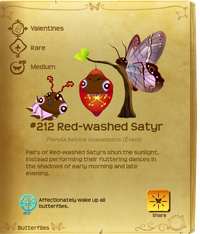 * On release the set was called
Valentines
, this changed with the release of the last butterfly.
Ad blocker interference detected!
Wikia is a free-to-use site that makes money from advertising. We have a modified experience for viewers using ad blockers

Wikia is not accessible if you've made further modifications. Remove the custom ad blocker rule(s) and the page will load as expected.