on laying an egg or you want to log in with another account? The setting menu will provide you a bunch of possible settings, you may adjust like you want them to!
General Settings
If you choose

at the main menu, it'll open the Settings Menu. At the top, you'll see your Game ID.
Sound Balance: The first three slider allow you to adjust the sound balance of Sound Effects, Music and Ambience. The most left point deactivates the setting completely, the most right will adjust at the maximum.
Notifications: You can further choose, which notifications you want to receive: For Eggs and/or Butterflies and/or Flowers. If there is a green mark, it's activated. You'll always get notification whenever the Wisp Mother ist ready. Make sure you allowed notifications at your devices settings!
Cancel' Time:
The last slider allows you to adjust the time that counts down before
Flutterbucks
are spend for speeding up stuff at the forest and for laying eggs. Other interactions, which cost

will open a notification message in the game, which must be confirmed to spend. On the most left side there is almost no time to cancel an action, on the most right side it'll take a lot of time.
Please Note: The community recommands to set the slider most right, to avoid accidentially spending Flutterbucks.
At the bottom you find two buttons. One for the Credits and one to Log Out.
Credits
Since Gutenberg and the letterpress printing people wanted to sign their creations. So did
unaway!
You can take a look at the credits by tapping

at the settings.
Notes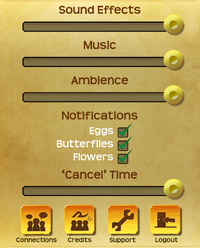 The Settings menu got changed every now and then.
Ad blocker interference detected!
Wikia is a free-to-use site that makes money from advertising. We have a modified experience for viewers using ad blockers

Wikia is not accessible if you've made further modifications. Remove the custom ad blocker rule(s) and the page will load as expected.