| | | | | | | |
| --- | --- | --- | --- | --- | --- | --- |
| | | | | | |   |
| Overview | – | Butterflies | – | Decoration | – | Flowers |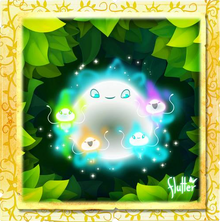 The Shamrock set of butterflies was only available during a limited-time Wisp Event, from 27th June – 8th July 2013 by normal breeding.
As the event is over now its butterflies can only be bought through the Special Visitor for

or – if you have at least one individual of one of the butterflies – by laying eggs for flutterbucks or using the Special Ability to lay an egg for free.

Attraction Flowers
for the Shamrock set were obtained by capturing wisps from a
Wisp Mother
,
with a Blue-eyed Mother gave Green, Cyan, Purple and Orange Wisps.
Notes
With the Shamrock set, the Wisp Mother was introduced and added to the rainforest. By it using this new game mechanics of the Wisp Mother it revolutionized the way events were completed. Previously, event butterflies were obtained by collecting event flowers from the random flowers that grow around your rainforest – very slow, and very random.
Ad blocker interference detected!
Wikia is a free-to-use site that makes money from advertising. We have a modified experience for viewers using ad blockers

Wikia is not accessible if you've made further modifications. Remove the custom ad blocker rule(s) and the page will load as expected.