#211 Sky-blue Hairstreak

(Currently not available through the incubator)


Scientific Name: Pseudolycaena marsyas (Event)
Set: Amore
Rarity: Uncommon
Size: Small



Incubation Time

: 4 hours

Caterpillar Time

: 1 hour

Egg Lay Cost

: 50
Special Visitor Price: 100

Special Ability: Give the Bee Fly love.

Cooldown:

4 hours

Description: Aphids may be bad news for bushes, but are necessary for the male Sky-blue Hairstreaks that love their sticky-sweet secretions.


Level Data
Level
Pollen to next level
Honeydew Production
Sale Price
40
116
every 1 hour
1,500
80
231
every 2 hours
1,500
120
347
every 3 hours
6,000
160
462
every 4 hours
13,500
200
578
every 5 hours
24,000
total: 600
694
every 6 hours
37,500
Notes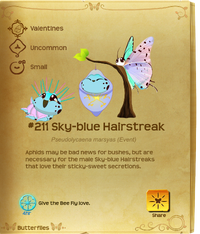 * On release the set was called
Valentines
, this changed with the release of the last butterfly.
Ad blocker interference detected!
Wikia is a free-to-use site that makes money from advertising. We have a modified experience for viewers using ad blockers

Wikia is not accessible if you've made further modifications. Remove the custom ad blocker rule(s) and the page will load as expected.